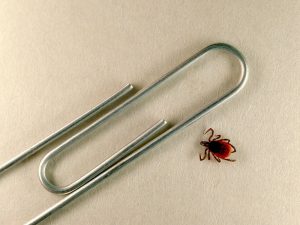 We are pleased to invite you to our second talk in the Larew Internal Medicine Educational Series on Wednesday, March 11th at 6:30 pm, featuring important information on Lyme disease presented by special guest Dr. David Kusner, Infectious Disease specialist at Mercy Hospital in Iowa City.
First identified in the early 1980s in Lyme, Connecticut, for many years Lyme disease was found primarily in the northeast, and then in the upper midwestern states of Wisconsin and Minnesota.  It has slowly migrated to other parts of the country, causing 300,000 illnesses each year, and has now been identified in Iowa City, Iowa.
Dr. Kusner will address all aspects of this disease which can present as nothing more than a simple rash but can become a devastating illness that dramatically changes lives. You'll learn about:
The spirochete bacterium that causes Lyme disease and the deer tick vector that transmits it to humans

Why the disease has continued to spread across the country 

The signs and symptoms of Lyme disease and recommended treatments at each stage
Most importantly, Dr. Kusner will provide essential advice on what to do if you think you have Lyme disease, and how to reduce your risk of contracting it. An internist with more than three decades of experience treating infectious disease, Dr. Kusner is brilliant, articulate and humble. 
Please join us for this fascinating, informative talk and learn how to protect yourself this spring as Lyme disease makes its way to Iowa City. 
RSVP to (319) 338-1535